Which items on your Bill Of Material (BOM) will give you problems this year, do you know? Emporium Partners and BOM Analysis™ can give you a good prediction…
Your BOM is the map to your ability to deliver the finished product. Proactive management of the BOM is often NOT prioritized. Any issue with the simplest of line items can catastrophically cause delay and escalate costs. The task of managing hundreds or thousands of line items can be monumental and requires intensive supplier collaboration between your purchasing/development departments and requires up-to-date market information.
BOM Analysis™ will release internal resources from the administrative task of researching the status of each item. Emporium have developed the Analysis™ tool-set as a part of its EDGE system which will help you bring this effort to a minimum burden on your organization and keep you one step ahead.
The BOM Analysis™ allows you to load a BOM with your annual usage. The tool will draw from years of proprietary trading data, component market data, lifecycle data, historical market counterfeit reports, component material data, supply and demand data, resulting in a snapshot of how failsafe your BOM is, where the areas of concern are. Where should your company focus it's engineers time? What do I need to buy now vs. later? Which parts do I need to protect against oxidation long term.
When you engage Emporium Partners' and its BOM Analysis™ tool you can expect to get a snapshot report of how much risk your BOM contains from multiple perspectives. This report can be further analyzed by Emporium professionals resulting in suggestions for what actions are needed and where.
BOM Analysis™ highlights:
• Direct snapshot of BOM problem areas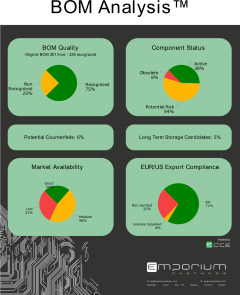 • What items need special protection against Oxidation (Long Terms Storage)
• Which items have supply issues
• How much of my BOM is obsolete
• Which items have known counterfeit risks
• How compliant is the BOM with export regulations
• How ROHS compliant is the BOM
• Managed through State of the art supply chain system "EDGE"
Click here to submit your BOM for a free sample report.
Are you interested in further information about our service offerings? After entering your contact details, we will provide you with our product sheets.